Schedule
Tuesday to Saturday
Breakfast: 08:00 - 10:00
Lunch: 12:00 - 15:00
Dinner, Bar: 18:00 - 21:00
Email
info@mansionsantaisabella.com
Address
Avenida José Velóz 28-48, Riobamba
Chimborazo, Ecuador
060102
Covid 19


Policies

The year 2020 and part of 2021 was a period of downtime and re-entrepreneurship for the tourism industry. The responsibility of the care of our work areas and daily disinfection was adopted a regular practice. For this reason, at Mansión Santa Isabella we strive to maintain all biosecurity measures and protocols to protect the health of both our guests and our staff.

SAFE TRAVELS CERTIFICATION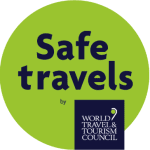 In order to restore trust among travelers and give clear guidelines for the return of tourism activity at a global level, the World Travel and Tourism Council "WTTC", presented Safe Travels, a set of protocols designed under the guidelines of the World Organization of Health (WHO) to create a general health policy in the industry.
Safe Travels aims to align the private sector with common standards that guarantee the safety of its workforce and travelers as each country or region enters the "new normal".
For this reason, Mansión Santa Isabella is proud to present this distinguished certificate to all its clients, so that both they and their families feel safe, in being in a place that meets world standards in the protection of its clients in the face of this new reality that we live, due to the pandemic.
DISTINTIVO Q
The "Q" for tourist quality is an Institute of tourist quality awarded to those companies and tourist establishments that meet the requirements established for the implementation of the quality system and continuous improvement, with great pride Mansión Santa Isabella has this certification of tourist quality to achieve the satisfaction of its customers through the services provided and the products offered